Madagascar branch
A. TESSIOT branch Madagascar was created to meet a specific local need. This activity offers the possibility of a greater mobility of people and facilitates the relocation of businesses.
The A. TESSIOT Madagascar branch has been located in the capital Antananarivo for seven years. We have gradually built our reputation and we are amongst the leaders of the moving, transfer and logistics industry across the whole of Madagascar.
Thanks to a network established from the moment of our arrival on the market, we are able to provide a solution to any requirement. Because a move is always a fresh start, make sure that it all goes smoothly by entrusting its organization and execution with us.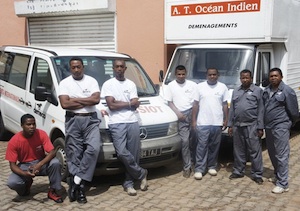 Contact details
A. TESSIOT Déménagements Madagascar
BP 1530
lot IVF  14 Ter Ambodihady Ambohimanarina
Route Digue
ANTANANARIVO
Tél : (00261) 32 60 411 78
(00261) 20 23 474 10
Fax : (00261) 20 23 474 44
Mail : madagascar@tessiot-demenagement.com